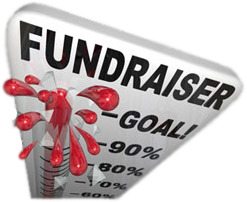 Exciting, proven concept that gets people's attention
Maximise returns for your organisation
Easy to run for yourself
Full support for you from our expert event managers
Kits available Australia-wide
Packages from as low as a few hundred dollars!
Fundraising is vital to the operation of schools, sporting clubs and organisations around the country. For it to be successful though, you need to find activities that spark people's imaginations, something fun that will get them involved.
So if the traditional options of dinner dances, trivia nights and chocolate drives have been getting a less-than-enthusiastic response from your crowd, it's time to try something new. It's time to try a racing night fundraiser!
Great for birthdays, corporates, Christmas parties and more too
You don't have to be running a fundraiser to get together with your friends, family or colleagues to enjoy a racing night – they're also fantastic entertainment for birthday parties, corporate events, work Christmas parties and more.
As with a fundraiser you can run the event yourself, or you can go all-out and have our fun, friendly "bent bookies" come out to run the whole thing for you. Full service packages are available in Melbourne and regional Victoria, as well as in New South Wales and Queensland through our affiliates. Contact us today for a quote or to find out more.
You can also have our bent bookies come out and run you fundraiser for you if you like!
Not feeling sure yet? Here's how other organisers found their racing night event
Thank you Horse Racing Night's for a fantastic night of entertainment. The bent bookies were seamless in the way they ran the event. Our annual kindrgarten fundraiser was a huge success raising over $12,000. The racing theme was a refreshing change from previous trivia nights and inspired our guests to get all frocked up, adding another element of fun – Tanya, full service fundraiser, 2013
After last years success we decided to hold another race night to raise much needed funds. Our numbers and profit doubled raising $5000 and we all had an awesome night. Easy to organise and run and great fun. Will be doing it all again next year – Graeme, DIY fundraiser 2012
Excellent communication with the organisation and our event has been very successful for the last 2 years. Would highly recommend to others to use – Brooke, DIY fundraiser, 2013
The night was a fun night, the package that was delivered made the night looking professional, and the tips and hints provided made the night run smoothly, definitely would run a night like this again – Shannon, DIY fundraiser, 2013
We've had a couple of Race Nights now that we've done ourselves and they have been very successful, not to mention a lot of fun!! Many thanks to Horse Racing Nights for making it so easy to organise and manage. A couple of emails and it's all done. Excellent product / event and service – Danny, DIY fundraiser 2012