?School Fundraising is a vital activity around Australia of all types for schools – primary, secondary, public, private schools, even kindergartens and universities.  If you're on a school fundraising committee you'll understand the challenge of finding a fundraising idea or activity that maximises the school's return while appealing to as many people as possible.
A Horse Racing Nights fundraiser ticks every box, and presents a fantastic alternative to many of the more "traditional" fundraising activities your school may have tried in the past – they're very easy to organise, cost-effective, and have a broad appeal that ensures maximum participation!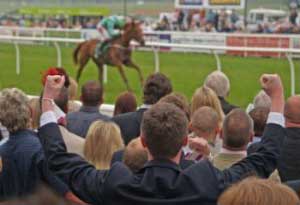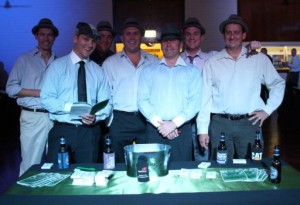 Do it yourself, or do it Deluxe!
A Race Nights Australia do it yourself fundraising kitsdo it yourself fundraising kits delivers outstanding bang for your school's buck – from as little as a few dollars per head, it'll allow you to run your own night at the races fundraiser. Recruit a few willing volunteers to help run the night and you're on your way!
Alternatively, if your school is located in Victoria, Queensland or New South Wales*, you also have the option of going with the Deluxe package, letting our dedicated event managers and in-costume "bent bookies" run all the races for you. They'll go out of their way to create an exciting, "giving" atmosphere, resulting in a school fundraiser that the parents and guests will be buzzing about for months afterwards!
Whichever format you choose, Race Nights Australia will help you all through the planning stages to ensure your fundraiser is as successful as possible. We've worked on hundreds of these events, so feel free to take advantage of our experience!
Horse Racing Nights – the ideal fundraising alternative for schools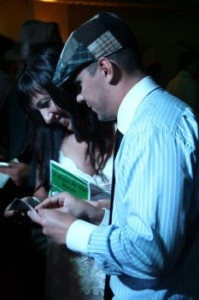 A unique, fresh style of entertainment, something different to dinner dances or chocolate drives, that will capture the imagination and enthusiasm of parents and guests.
Potential for large profits with minimal outlay.
A night at the races scales easily for events (and budgets) of all sizes! Whether you're expecting a few dozen people or a few hundred, we can tailor a solution for you.
We provide everything, no special equipment required (other than a TV or projector to show the races), so you can save on venue costs by holding the fundraiser in the school hall if you like.
The racing carnival theme creates an atmosphere that encourages fun and socialising to go along with the fundraising.
Format that can be adapted to accommodate a wide range of other fundraising activities, including raffles, auctions, fashion shows and more!
For an obligation-free quote, to book an event, or to discuss any aspect of your upcoming fundraiser, please don't hesitate to contact us for more information!
* deluxe events in New South Wales and Queensland are provided through our interstate affiliates. – contact us for more information.