Deluxe packages – let us run the race night for you!
Whether it's for a club fundraiser, a school fundraiser, or whether you're looking for some great entertainment for your next corporate function or birthday party, Race Nights Australia has the answer with our fully-staffed deluxe packages.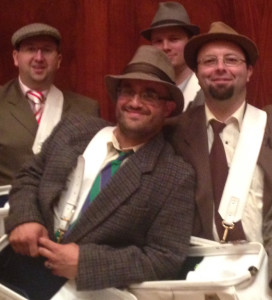 You'll get to kick back and enjoy the night as our in-costume bent bookies run the whole thing for you.  They'll make sure everyone gets their fun money and explain how the race night works to everyone.  The bookies will also take the bets, call the races and pay the winning tickets.  At the end of the night, they'll present the trophy to your champion punter.
If you're looking to throw a racing-themed fundraiser or function that really has the "wow" factor, then a deluxe package is the option for you.  Deluxe packages are available in Victoria, as well as New South Wales and Queensland*.
Your deluxe race night package will include:
"Bent bookies", who will come in-costume to run the race night, take the bets and keep your guests entertained
Authentic props, including bookie bags and working odds boards
Six races shown on DVD throughout the night, which your guests can place fun money bets on.  Races will be commentated live in the room by one of your bookies
Fun money for all of your guests
Printed form guides, so your guests can read up on the runners before making their bets
Trophy with a custom inscription for the winner
Everything will be delivered and set up before your function starts.  The bookies will run it all for you on the night, and then pack everything down again at the end.  Deluxe packages can be customised for events of all sizes.  Events ranging from an intimate gathering of a dozen or so people to galas with hundreds of people in attendance can be catered for.
If you're looking for fresh, exciting entertainment for your next function,
contact us today
for an obligation-free quote.
* NSW and QLD events run by our local affiliates